CJH Projects is a husband and wife team, we have a young family and have lived in the Brisbane area for many years.
When working with CJH Projects you will deal directly with Carl and Chelsea throughout the entire project and only our team of top-quality Carpenters and subcontractors will be employed. We will listen to your needs and ensure we understand these from the very beginning through to completion.
CJH Projects will always provide you with a top-quality service and superior craftsmanship. We strive to ensure that the building process is seamless and meets your needs from start to finish through clear and timely communication.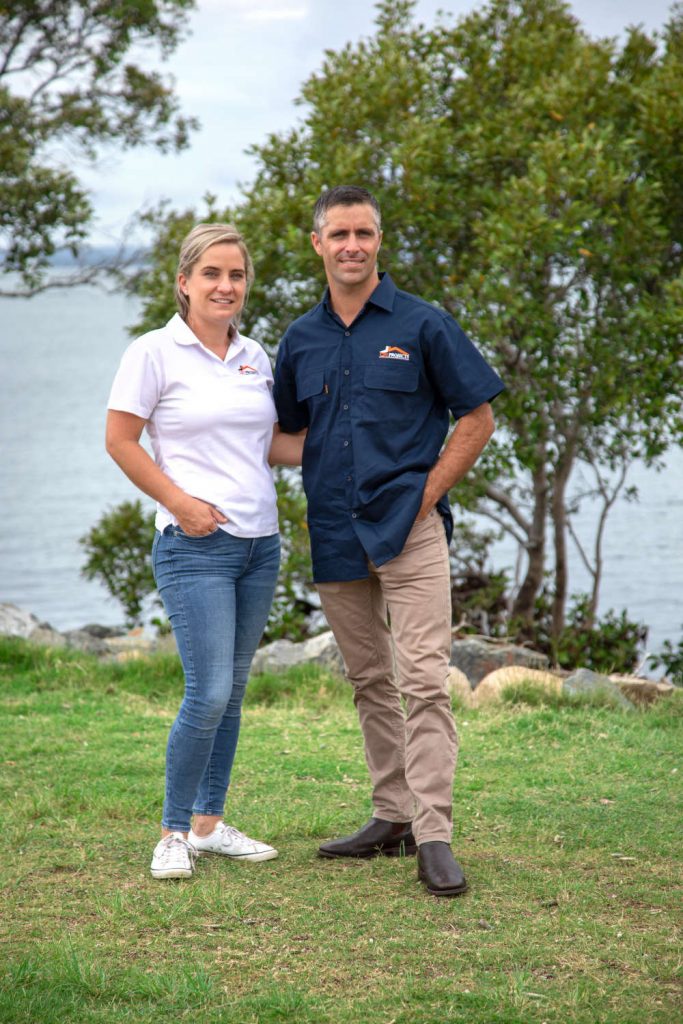 We are family owned and operated and have lived in Brisbane for over 20 years so we understand what family living in Brisbane means.
We highly value honesty, transparency, and open communication at the core of our business.
We are registered with Master Builders Queensland, ensuring that we are kept informed of changes to laws, codes and regulations which impact our industry.
We provide a comprehensive and detailed quote including specifications, every time. We also used fixed price contracts so there are no grey areas or nasty surprises along the way.
We work closely with you, your designer or Architect and other stakeholders to ensure open and transparent communication is achieved and that your build runs smoothly on time and within budget.
We know that your project is exciting, and we welcome regular site visits.
Above all, we understand that the home is often your greatest investment and it is important to treat it that way.
What our clients are saying



When building for the first time we were looking for someone that we could really trust. A builder that would be easy to deal with, that would work within our budget and maintain a high quality finish. From our first meeting with Carl our journey has been a pleasure. From signing the contract right through to the end of the build everything has run smoothly and on time. Carl went above and beyond what we expected. Pointing things out in our plans that may not have been practical rather than just building off the plans he had been given. Carl always used his initiative, always communicated well and is a perfectionist in his trade (a rare find).

Our house is exactly what we wanted and then some. We highly recommend CJH Projects to anyone planning on building, we will be entrusting our next build with Carl in the near future.


We would highly recommend CJH Projects to anybody seeking a quality builder. Our experience renovating with CJH Projects was exceptionally positive, from contract through to hand-over stage. The exceptionally prompt and detailed communication from the team throughout the renovation put us at ease and was very much appreciated (especially for first time renovators).

As with all builds a few unforeseen challenges arose along the way, Carl and wife Chelsea remained solution focused and fast acting to offer alternatives (and in the end preferred) outcomes. Carl's experience and knowledge were exceptionally valuable to call upon throughout the project. We continue to receive very positive feedback from visitors about the quality of workmanship and finishes in our home, we are very proud to show off our new home to friends and family.

Thank you CJH Projects for creating the additional space for our growing family. Our house feels like the home we had been dreaming of, we appreciate you making this a reality for us. CJH Projects will definitely be our builder of choice should we build again in the future.

We bought our Queenslander home in 2015 knowing an extensive renovation was going to be needed to build our dream family home. We literally bought one of the worst houses in a nice street. After living in the house for three years we had plans drawn up, obtained some quotes, and engaged CJH Projects to undertake our renovation.

During the builder selection process, it was important to us to engage a builder who had similar ethics and values –we knew our renovation was extensive and would be completed in stages, and we wanted the same builder to be involved end to end.

The professionalism and "can do" attitude adopted by CJH Projects, and the attention to detail put into our home was amazing, and our house now looks on par with all the other renovated Queenslanders in our suburb. We went from a 2-bedroom, single story house to a 5-bedroom, 3-bathroom, two story home with a huge semi enclosed deck enabling an integrated indoor/outdoor space for our family –perfect for QLD summers!

We are so in love with our home and would highly recommend CJH Projects to anyone who is considering an extensive renovation or new build.






Thanks, Carl, for building the extra room onto our house and getting the job done as promised before our twin boys arrived, it was greatly appreciated. You made the whole process from start to finish very easy and stress free. Your communication was A+. Highly recommend you to others and if we ever need any other projects done, we will be sure to get in contact with you first!
Thanks again.






We employed CJH for some renovation work in our house and could not be happier.
The work was carried out within the agreed timeline. Workmanship to a high standard at a good price, fantastic job and we wouldn't hesitate to recommend your company

Thanks again!
Carl was recommended to us by our architect and after a competitive pricing process and several in depth conversations, CJH Projects was awarded the contract to extensively renovate our house.

From the outset, Carl's open and completely transparent approach to the work gave us the confidence to proceed. Carl's excellent communication, openness and integrity were demonstrated throughout the whole project, particularly when design changes were required.
We were always included in decision making and were never left in doubt as to the outcome. He also provided innovative thinking to address any issues as they arose. Throughout the building process, site management was exceptional as was Chelsea's procurement support. This enabled the work to be completed on time despite major setbacks due to unforseen complications.

Overall, the quality of the work exceeded our expectations without blowing the budget. The extended team including Carl's own men and subcontractors worked extremely well together. From our perspective, this building experience was very positive, and we are absolutely delighted with our new home. Carl is an exceptional builder with very high standards. We highly recommend Carl and his team, particularly for complex renovations.




CJH Projects made something that felt overwhelmingly big in the beginning such a great experience.

The whole process, communication and costs were transparent throughout the build.

They went over and beyond to incorporate our ideas and we really liked the personal relationship with the team.